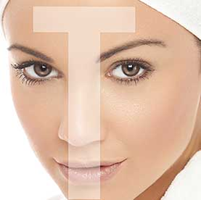 When you have a combination skin, you usually suffer from dull or shiny skin that shows all the imperfections! Here are some steps to do daily so you have a radiant skin.
Treat gently
A combination skin is dehydrated. It then has the tendency to feel tight. You need then to use a very soft makeup remover. The cotton you use must be very soft as well as the makeup remover solution. You can also spray some thermal water in the evening after removing the makeup.
Hydrate daily
If your skin secretes an important quantity of sebum it should not be a reason to avoid moisturizing it! On the contrary, you should look for an adequate moisturizing and mattifying cream. In fact, this type of cream contains absorbent powder that will absorb the sebum and give you a mattifyied skin.
Play with makeup
It is known that the combination skin is shiny on the T-zone. In fact, the pores are dilated in this area, while the rest of the face skin is either normal or simply dry. So, in order to mattify the skin, choose a non-comedogenic foundation. Finally, apply a transparent granulated powder.
Boost your radiance
Usually, during winter or at the end of summer, the complexion is rather dull. Let's try to give it radiance. Well a simple 3 to 4 weeks cure based on vitamin C can be magical. In fact, you can either use a serum or a night cream that contains 10.5% of pure vitamin C. At the beginning, you can apply it on alternate evening. If there is no scratch or allergy, then use it daily.