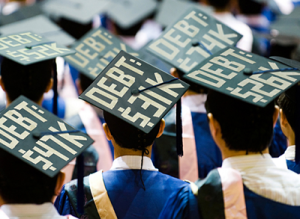 There is no doubt about the fact that the student loan debt crisis is gradually going to be one of the biggest financial catastrophes that is going to cripple and paralyze an entire generation. While there are federal and private student loans that are being defaulted on, there are no such solutions for a specific kind of loan.
If you too are wondering about the ways in which you can put an end to the overwhelmingly large amount on your multiple federal student loans, you need not fret as there are consolidation options through which you can combine your multiple debts into a single monthly payment. Take a look at the multiple benefits of a federal debt consolidation loan.
1 – Single lender and single payment in a month
As you take out the debt consolidation loan from the US Department of Education, it is most likely that you have to make a single monthly payment to the lender. Before you took out this loan, you must have been splitting your monthly payments among multiple lenders but as soon as you take out the debt consolidation loan, you can limit your monthly liabilities to a single in a month. Saving money will be easily possible after you combine your debts.
2 – Revised interest rates
The interest rates are usually the biggest reasons that bar the student borrowers from making payments. The debt consolidation loan will carry lower interest rates than what you were paying on your individual student loans. With lower interest rates, the monthly payments will also be lower and therefore this is yet another way of saving your dollars.
3 – Extended repayment term
There are two ways of saving money on the monthly payments, by lowering the interest rates and by extending the repayment term of the loan. If the repayment term of the debt consolidation loan is extended throughout a long period of time, the same loan amount will be stretched throughout a long period and this will make the monthly payments lower than before.
4 – Flexible repayment terms
The direct debt consolidation loan will also offer you certain flexible debt repayment terms like Income Based Repayment Plan or Income Contingent Repayment Plan. Both the aforementioned plans will allow you to repay your debt as is suitable with your present income. You can even switch from one repayment plan to another depending on your changing financial needs.
5 – Enhance your credit score
When you start defaulting on your student loan payments, it is pretty obvious that this will hurt your credit score, but once you combine your debts through a debt consolidation loan, you can gradually boost your credit score. Once you start making the monthly payments on time, your credit score eventually increases.
Therefore, when you're wondering about the ways in which you can repay your student loan debt obligations, you can take out a federal debt consolidation loan. Consider the above mentioned benefits before taking the plunge.