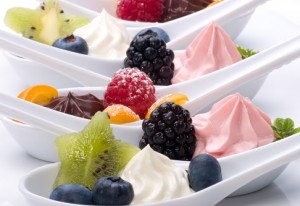 Finding a dessert that's tasty without being loaded with calories and carbs can be a nightmare. Thank God, then, that we have frozen yogurt to help us with this conundrum!
Frozen yogurt is a delicious and very healthy dessert. Certainly it is far healthier than ice cream, making it great for those who want to enjoy a cold treat without spoiling their healthy eating habits. Perfect as a light snack too, if you want something with a little more weight and flavour than whole-grain crackers or fruit. What's not as well-known, however, is how flexible the dessert is when it comes to mixing and matching your favorite flavors. While ultimately what works and what doesn't is a matter of personal taste, we do have a few frozen yogurt flavor blends of our own that you have to try.
1 – Chocolate and Vanilla
A very simple but deliciously creamy combination, chocolate and vanilla is a classic favorite for those who like their frozen yogurt sweet and moreish, without going crazy with flavor experimentation. While tasty enough on its own, you can add a variety of toppings to the mix as well. Why not try some fudge and hazelnuts as well to give an even more luxurious flavour?
2 – Strawberries and Cream
Strawberries and cream are a classic English summertime snack, and now you can also enjoy it as a delicious flavor blend as well. Creamy, yet wonderfully fruity as well, it is a very soft flavor that lends itself well as a light snack. At the same time, it is also delightful enough to be enjoyed as a dessert item too, and lends itself very well to other mixed fruit toppings. Enjoy the fruits of an English summer with this memorable combo.
3 – Mint and Apple
Crisp, refreshing and distinctively sharp, mint and apple complement each other very well as a frozen yogurt blend. This mix is great if you want a quick pick-me-up to accompany any exercising you might be doing, leaving you refreshed and energized and ready to go. It works as a healthy, low-fat snack in between meals too, allowing you to whet your appetite without ruining your calorie count.
4 – New York Cheesecake and Raspberry
For those looking for something truly rewarding, yet anxious about their calorie intake, then look no further than the New York Cheesecake and raspberry mix. Not only do you get the tasty delight of the cheesecake, but you can also enjoy it with the fruity zest of some raspberry too. Don't feel constrained by that one berry choice, either. Feel free to mix in any other fruit of your preference as well. It is your frozen yogurt after all!
5 – Fruit Mixes
Go nuts here. Pineapple, kiwi, banana, watermelon, raspberry, or mango, just mix the fruits together and feel the flavors explode on your tongue. Much like any other fruit salad, yet one that's all blended in one easily consumed frozen dessert. While fruit salad does not exactly go straight to your thighs, it can be a little messy and a little inconvenient for those on the go. So a fruit mix frozen yogurt blend makes a much more flexible choice for those always on the go.
6 – Chocolate Orange
Orange works surprisingly well with chocolate. The smooth, mild creaminess of the chocolate is quickly complimented by the sharper, sweeter tang of the orange. A chocolate orange frozen yogurt blend is excellent for those who really do like their chocolate, but at the same time are looking for something new to have with it. Again, you can mix and match any other fruit combinations in with this selection too. Pick a fruit and throw it into the mix.
Author Bio
Christian Mills is a big fan of frozen yogurt, and mentions it and other desserts when writing in his blog. For the best in frozen yogurt, he highly recommends turning to Mochi. You can learn more about Christian on Google+.