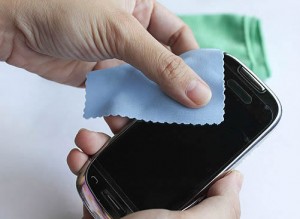 A dirty phone screen won't give you much pleasure. Screens are delicate, however. Clean them the wrong way, and you ruin them for good.
Regular cleaning of the touchscreen of your cell phone or tablet is essential for its upkeep and longevity.
Here's how to get your device touchscreen nice and clean.
What you'll Need
Microfiber cloth or a similar, soft and lint-free cloth.
Distilled water or commercial touchscreen targeted cleaning agent.
Steps
1 –  Choose a microfiber cloth. Some devices will have such a cloth included, you can also use your sunglasses microfiber cloth.
2 –  Turn off the device before you start to clean it. It is usually much easier to see where to clean when the device is switched off.
3 – Brush with the microfiber in small circles. This will remove the majority of simple imperfections.
4 –  Only if truly needed, moisten a cotton cloth, and repeat the small circular motions.
Some clothes need to be made slightly damp before use. If it's the case, it is best to use distilled water.
5 –  Brush again with the microfiber cloth to finish off. Don't over-rub though and if there is any dampness left, just leave it to air dry.
How to wash the microfiber cloth
1 –  Soak it in warm, soapy water. This opens the fibers and releases the grime that may have gathered.
2 –  Scrub the cloth lightly while soaking it (carefully to not damage it).
3 –  After soaking, avoid squeezing out any excess water, let the cloth out to air dry.
Do not clean your touchscreen with the cloth until it's dry.