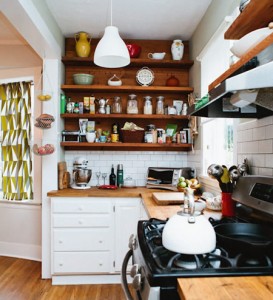 It's an age-old problem: how do I best utilize the space in my kitchen? Builders, designers, moms, cooks, and everyone in between has asked this question at least once. There are a number of answers to the issue, but some seem to work better than others. They key is to save space and make it look good at the same time.
1 – Remove a Wall
You can immediately make your kitchen more spacious and open by removing a wall. Not only will removing a wall create more space to move around and store things, it will also produce a visually appealing result. Try removing a wall and replacing it with more countertop space, cabinets, or even a kitchen island. Or simply leave the space open and allow better foot traffic through your kitchen.
2 – Install Sliding Shelves
Sliding shelves are a fantastic way to save space and utilize existing space better. There are a number of sliding shelves on the marketplace today, and they can be easily installed inside your existing cabinets.
3 – Cart vs. Island
While an island is often preferred, what is to stop you from using a rollaway cart instead? Kitchen carts allow for additional counter space and storage without having to commit to a permanent fixture.
4 – Use Closet Space
Do you have a nearby closet that is not being utilized? Turn it into a pantry and save space in your kitchen. Adding floor to ceiling shelves can help you store a lot of food and kitchen supplies.
5 – Choose the Right Lighting
You may find that you don't utilize your entire kitchen because of bad lighting. Eliminate darkly lit corners by installing under-cabinet lighting. You will immediately discover more space.
6 – Build Fixtures into Cabinets
By mounting your microwave above the counters, you can free up a few more feet of real estate and workspace.
7 – Add High Shelving
By installing high shelving on your kitchen walls, you can add storage space without adding a cluttered look. These high shelves can be used to store large bowls and utensils that take up precious space in your kitchen.
8 – Relocate Dishes
If your kitchen table is separate from the kitchen space, try storing plates and dishes nearby. It may be a pain when washing and drying, but could save a lot of valuable space.
9 – Use Wall Space
Walls are your best friend when it comes to designing a space saving kitchen layout. Add things like pot racks to reduce the amount of clutter in your cabinets.
10 – Hide Seating
If you have bar stool seating at your kitchen island, one piece of advice is to store the seating underneath the island. This can give you much more freedom of movement in your kitchen and reduce the feeling of clutter.