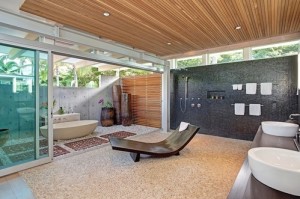 One of the downsides of modern life filled with technology and obligations is the stress we all have to deal with every day. It is not easy to travel to work and work really hard for many hours, only to be stuck in the traffic jam on your way back home. So when you get back, your only wish is to relax and gather some energy for the next day. The easiest way to do that is to get a nice, long, hot bath, but it would be even better if you could take it to the next level and create a small zen garden out of your bathroom.
1. Bring nature in
Nothing is more relaxing than nature, and it would be wonderful if you could bring it in your bathroom. Add some wood, cover a wall with planks, or install a few simple wooden shelves on which you could place a plant or a nicely shaped rock. Wooden floors are also a good idea and will look great, or if you don't like it, you could always opt for riverstone floor – it is very meditative and zen. In addition, riverstone floor also feels really good to walk on and keeps your feet healthy.
2. Details are important
Nothing says "zen" like simple details strategically placed in your bathroom. A small wooden bench for you to put your things on or sit for a while, several well-shaped pebbles on the shelves, and a delicate little oil burner which will spread the scent all over the bathroom are perfect. You can choose your favorite oil, or change them – lavender for relaxation, patchouli for mystic atmosphere, etc.
3. Simplicity is the key
Teak shower mat, bamboo blinds, and dorf tapware will not draw attention to themselves, but rather complete the air of minimalism and elegance you are striving for. Keep the colours soft and neutral, earthly colours in shades of green, brown, white, and grey are the best choice since these will have calming effect on both your eyes and your mind once you enter.
4. Tricks for serenity
If you don't have a bathtub, but as shower instead, there is no reason why you couldn't create a spa-like meditative atmosphere too. All you need are a few eucalyptus or lavender branches and some twine. You can either use dried and preserved branches or fresh ones, whatever you like best. Tie them together into a small bouquet and hang it on your showerhead arm. The smell will soothe you in no time, eucalyptus will clear your mind and nostrils, and relax your muscles, while lavender will make you ready for bed.
By changing your bathroom into a place where you can meditate, you will do a lot for yourself and your family. After we take a shower, wash our faces, and brush our teeth, we will be able to calm down and steal a moment of peace in this small oasis of serenity. Not only will hot bath relax your muscles, but the atmosphere will help your mind relax as well.