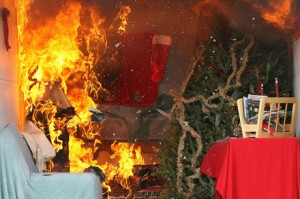 Let us all be glad that the tradition of putting real candles on Christmas tree branches has mostly gone the way of the oil lamp. Still, even without such an obvious hazard, there are numerous risks posed by holiday decorations that every family should be cautious about, particularly because there are more deaths due to structural fires during the holidays than any other time of year. In fact, overall fires increase by 15% during the holiday season, making them a real concern. Christmas trees, menorahs, and many other festive decorations can pose a fire hazard, but with extra care, you can significantly lower your risks. For more information about related topics, click here.
 1 – Avoid Dry Trees
If you are planning to have a natural tree in your home for the holidays, it is important that you water it every day so that the branches don't dry out and become a high fire risk. Make sure to position your tree away from fires, candles, and other heat sources, and in a position where it is not blocking any exits. Check to make sure that none of the decorative lights on the tree are frayed, as even a tiny spark can start a devastating fire.
2 – Caring for Christmas Lights
Strings of festive holiday lights can be dangerous if not used and cared for properly. Before stringing up Christmas lights, check the entire length of the wire for fraying or broken bulbs. Never attach more than three consecutive strings of holiday lighting when decorating. Light strings should also contain no more than fifty bulbs each.
3 – Minding Menorahs
Menorahs and other candles should never be left unattended. These items should be placed a minimum of a foot away from anything that is flammable. Other classic holiday candle decorations such as advent wreaths, which also feature live greens, can be particularly dangerous and should always be monitored. Because candles start approximately 40% of holiday decoration fires, consider switching to battery operated candles. New battery operated candles flicker like real flames and even come in scented varieties, making them an impressive facsimile.
4 – Other Holiday Risks
Fire hazards during the holidays don't just come from decorations. The general disruption of day-to-day life plays a large role in putting families at risk of fire. As parents hurry around to get all of the holiday preparations done, most will admit to trying to do too many things at once. This can result in carelessness and accidental fires. Many adults also try to learn new cooking techniques or decorate in different ways during the holiday season. When you are overwhelmed with holiday chores, it is not the time to learn how to deep fry a turkey (there are three times as many insurance claims caused by turkey frying accidents during the holidays) or baste a roast in wine.
Finally, increased alcohol consumption during the holidays can pose an increased fire risk. Inebriation, much like being over-tasked, can make one careless, causing accidental fires or creating unnecessary risk factors.
When preparing for the holidays, check all of your decorations for indications that they are fire resistant or flame retardant. This simple step can make your home many times safer and drastically reduce your risk of a structural fire this holiday season.