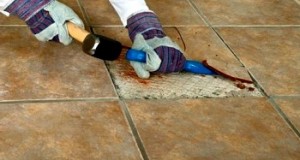 Sometimes, one tile is broken and it's general panic at home. Indeed it is harder to clean and you need to replace it ASAP! No need to call a professional, you can do it yourself! Here is how to replace a broken ceramic tile.
Necessary hardware
A new ceramic tile
Electric drill
Mastic knife
Spatula
Mallet and chisel
Hand brush
Sponge
Protective gloves and glasses
Tile adhesive
Tile join
Prepare the surface
Use the drill to break the rest of the old tile. Once it is broken stop drilling. It would be better if you position the drill in the center of the tile so to avoid breaking other ones.
Using the mallet and chisel, take off the rest of the tile progressively. Once the

broken tile

is completely removed, take off the old adhesive using the mastic knife.
When you finish this task, clean the space with the hand brush. Finally, wet the surface with the sponge in order to prepare it for the next step!
Place the new tile
Apply now the tile adhesive on your spatula, and then apply it on the back of the new tile. Make sure to apply the adhesive by inclining the spatula at 45°.
Place the tile on the surface you have already prepared and cleaned. Press gently and make sure it is well lined up.
Then, apply the tile join around the new tile even on the excess of tile adhesive.
Let it dry for 15 minutes. Smooth the join with your finger and finally clean the join excess.