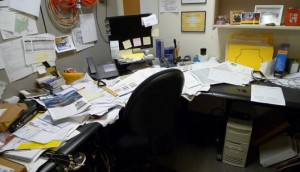 Is your office a disaster area with files strewn about and clutter covering your desk? Fear not, we have a plan for you to tackle the heroic task of cleaning and organizing your office space. Follow these simple steps, and your office will be ready for focusing on your work rather than the clutter surrounding you.
1 – Create a system
The only way to properly organize your office and keep it that way is to create a system. First, you should have a variety of storage spaces in your office to handle your files, papers, office supplies, and other materials. On your desk, it is helpful to have a desk organizer for items such as pens and pencils, as well as a set of trays for different types of papers, such as your current assignments, outgoing memos, bills, reminders, etc. Your office should also have a filing cabinet where you can store any important documents and information that you will need to keep for the future.
2 – Start with your desk
When cleaning your office, the best place to start is with your desk. Your desk is the site of the most clutter because it is your most used space. The best way to start is to completely clear off your desktop. Next, take only the essential items and organize them back into and on top of your desk. Your desk should not be a place for equipment or unnecessary files. You should have current papers, office supplies you frequently use, and any other important components for your workspace.
3 – Don't just organize, clean
If you really want your organizational system to last, you shouldn't just organize. You should clean as well so that your workspace will be spotless and you will feel much more motivated to keep clutter and dirt from piling up again. If your office is carpeted, vacuum it. You should also dust all surfaces and clean up any debris or spills. Cleaning your office completely will add the finishing touch to your new organizational system.
4 – Items to toss
When going through all of the clutter in your office, you also need to know when to throw certain items away. Some items to toss include any office supplies that no longer work, as well as pay stubs, medical bills, and bank and investment statements from over a year ago. You should also get rid of any documents that are outdated in addition to old newspapers or magazines. The only type of documents that you should hold onto are tax returns and the supporting documents.
5 – Organize your computer
Finally, you should never finish organizing your office without taking care of your computer, too. You should keep all files sorted into folders for your various assignments or clients at work. Your financial files should also have their own section. Try not to keep an excess of files saved to your desktop or downloads folder, as you may have difficultly locating the right files in the future. After your files are sorted, you should back up all of your data to an external hard drive.