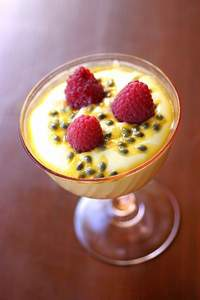 We suggest you today a fresh dessert. Made of passion fruit, it will give that nice feeling of going away for a while. Plus it is really easy to prepare and will marvel your guests!
Ingredients:
4 Big and ripe passion fruits
37.5cl of fresh double cream
250g of sweet condensed milk
Preparation:
Cut the passion fruit to 2 parts. Take off the pulp and the seeds. Mix the fruits in a blender. Then pass the mixture in a fine strainer.
Put the juice back in the blender. Add the fresh cream and the condensed milk. Keep mixing until you get a smooth cream.
Pour in glasses and put in the refrigerator for 6 hours.
You can decorate with cherry and passion seeds.
Enjoy slowly 🙂