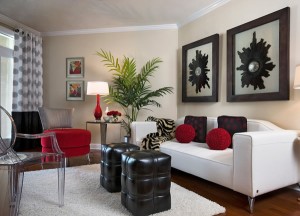 When it comes to designing your living room, maximizing the seating options will be your first priority. After all, there is a reason for why the living room was historically known as the sitting room – it's where people gather together to engage in long conversations. Of course, most conversations are done while individuals involved in the discussion are sitting. A very common furniture combination which people employ to maximize seating is by pairing the sectional with the ottoman.
What is a sectional?
For those who do not know what a sectional is, it's a type of sofa only that is made up of different sections. Each section can be used individuals as chairs or they can also be joined as one to come up with a large sofa. Often times, at least two pieces of the sectional meet each other at 90 degree angles.
What is an ottoman?
On the other hand, the ottoman is a padded seat or bench that often functions as a footstool or a stool. However, this backless and armless upholstered seat can also serve as a coffee table especially in more modern homes. Hollow ottomans are also used for storage purposes.
So how can a huge sofa blend well with a padded footstool?
The square ottoman with the equal length sofa. This combination is great for when you have a sofa that extends both ways in the same equal length. The square ottoman which is placed in the middle of the sofa emphasizes the equal lengths, giving that sense of proportion. However, the square ottoman also does well with sectionals that have a U-shape.
The round ottoman with the rounded sectional
When you have a rounded sectional, the junction where one section forms a 90-degree angle with the other section is not as spacious as well you have the traditional type of sectional with the sides. In order to get rid of this issue of traffic, then you ought to place a rounded ottoman instead of a square ottoman. The round ottoman gives more space for people to move around and it also blends well with the softened look of the rounded sectional.
The rectangular ottoman with the L-shaped sectional
When you have an L-shaped sectional, you also want a rectangular ottoman that is able to reflect the long side of your sofa. Since it is longer than the square ottoman, the rectangular ottoman also has an added advantage in that more people can make use of it either as a coffee table or as a footstool. You can even pick a rectangular ottoman with a hollow center so that you can store items inside of it. This is a practical option especially if you are pressed for space.
Professionals from Nick Scali suggests that for much longer sectionals, you combine two rectangular sections in order to match the entire width of the L-shaped sectional that you have. Or you can decide to pick out small round ottomans and cluster them all together if you feel uncomfortable with picking a large ottoman.
Author Bio
Stacey Watts, the writer, loves decorating homes with the right furniture. She also plans and designs outdoor spaces with wooden furniture. When not blogging, she shops for home decors.