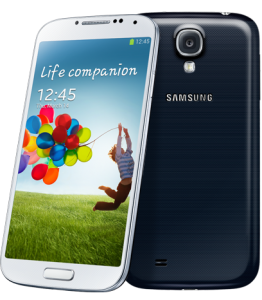 The Samsung Galaxy S4 is an excellent smartphone. In addition to its impeccable quality of manufacture and its amazing performance, Samsung has incorporated new features to its latest baby creating a monster in the world of mobile phones.
Check out these 10 tips to enjoy your new Galaxy S4.
1 – Claim your 50GB Dropbox storage space
One of the first things you should start with is to claim your free cloud storage space. Samsung signed an agreement with Dropbox, you get 50GB of free storage for two years. To activate this service, open the pre-installed Dropbox application and login / create an account.
2 – Interact with gestures / eyes
The S4 has a motion detector you can activate in the settings, with two main features:
Preview information: Place your finger on emails to display a preview of the text or thumbnails in your gallery to enlarge the image.
Quick glance: This allows users to get an overview of the information when the power is off. Hold your hand over the front camera and the screen will light up briefly with essential information such as battery life, missed calls and received messages.
The Samsung Galaxy S4 is so smart that it can also track your eyes to see exactly when and where you look. With Smart Stay enabled, the phone display will be automatically dim when you don't look at the screen. You can also browse Web pages by simply tilting your head, and videos will pause when you turn your face away from the screen.
How to activate: Settings > My Device > Smart Screen
3 – Display customization
Compared to the other smartphones, the S4 has a comprehensive range of display settings.
The screen mode is configured by default on "Adapt Display", but you can change this setting, different modes exist: Dynamic, Professional, Standard…
Next point is brightness, which is one of the main factors affecting battery life. The S4 has an automatic adjustment setting using the light sensor to automatically adjust brightness. You can also choose a manual adjustment.
How to activate: Settings > My Device > Display
4 – Sound customization
"Adapt sound" is a unique feature of the S4. It allows you to make an interactive sound test, then it adjusts the sound balance to give you a customized listening experience.
Once you have made the test, the S4 will play audio to show you the difference with and without personalization. The difference is obvious and you'll be excited for taking the time to perform this test.
How to activate: Settings > My Device > Sound> Adapt sound
5 – Activate the multi-window mode
This feature has become famous by the Galaxy Note range. The multi-window mode allows you to run two applications in parallel, each taking a portion of the screen. In other words, you can watch video and surf on the Web at the same time, or write an email while keeping an eye on your Twitter feed.
How to activate: Hold down the Back button, slide the menu on the left side of the screen., select the applications you want and enjoy. Note that you can reduce or enlarge the space each window takes by dragging the edge of the window.
6 – Broadcast videos, photos and music
It is not true that you can't share content of your S4 with other devices. Galaxy S4 uses a DLNA connectivity, adopted by all major manufacturers. This means that you can share content from your S4 with a Sony TV for example.
There are many applications that claim to allow you to stream content. However, Skifta app (available on Google Play Store), is the most reliable for most testers. Besides, it's simple to use. Once launched, select your Galaxy S4 as the media source, then select the device you want to stream content on. Select the file you want to broadcast, and your receiver should start playing the content.
7 – Track your health
Do you want to get in shape? Try the S Health built-in app. It allows you to monitor your food intake, assess your environment (humidity and temperature) and keep a history of your activity. The walking companion is a good starting point. It gives you a daily goal to reach (10,000 steps for instance).
8 – Save battery
The S4 is equipped with a built-in power saving mode, you can enable it manually from the quick settings menu. When activated, the device automatically reduces the power sent to the CPU and display. However, if you are a demanding user, this may not be enough; you should download a dedicated application.
The 2x Battery Saver app gives you a complete assessment of your energy and helps you extend battery life. The application can also enable a mobile data connection according to user-defined intervals.
9 – Voice control
Opening and controlling apps with your voice are possible. You can choose a number of options: answer incoming calls, stop the alarm, take pictures, control the media player…
How to activate: Settings> My Device > Voice control
10 – Encrypt your files
It's not an exclusive feature of the Samsung Galaxy S4, but yet, it is still important especially if you need to view sensitive documents on your phone. Download the free app Kingsoft allowing you to save and encrypt your files. Encryption works on multiple platforms. Even if you upload a document to a computer, you will always be prompted to enter a password in order to view it.