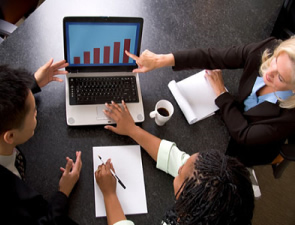 So, if you don't want to be bossed over by others and want to set up a business of your own, then you must be planning a start-up. Like every other new venture, you need to think in the long term in order to make this venture successful. Make sure you have a clear idea of what you want to sell, who are your target audiences, where do you want to see your business after 5 years from now, what are the USPs of your business, what will be the possible sources of finance to fund your business, what marketing strategies will you follow etc. If you are not so sure about the possible steps that you need to follow in the coming years, here are some effective steps to follow.
1 – Fund your business
Even before you decide what type of business you would be involved with, consider if you have enough capital to invest in your business. Check out how much savings you have, ready at hand and how much from that you can invest in the business, after keeping some amount for emergencies. If you don't have enough money to cover all the initial expenditures like that of supplies, taxes, rents and other overhead costs, consider taking personal loans either from your bank or from other alternative sources or explore your credit cards or other investments.
2 – Decide what type of business you will do
It is important to have a solid and fruitful idea in order to start a business. Whether your idea is about innovating a new product or it is about offering solutions to an existing problem, it must be salable. Make sure you offer something which people want to buy, and not something that you want to sell. Check out how tough is the competition and think what you can do in order to set yourself apart from your competitors.
3 – Hire resources
Well, being the founder you must be well aware about all the aspects of your business, but for more effective results you need o hire people with specialized skills and experience. For example, you might need to hire a legal attorney, an accountant, a product manager, a sales manager and other professionals for the different sectors who will ensure that your business runs smoothly.
4 – Give your business an appropriate name
Remember the name is an extremely important factor for start-ups as this will create your identity among the target customers. Make sure the name of your business clearly conveys your mission, objectives, your offerings and your business plan so that people can instantly understand what this business has to offer and whether they are relevant customers or not. While choosing the name of your business, you can be a little creative to a certain extent, but make sure the name is not confusing. You can just pick up a name, randomly and if you see people are familiarized with the name, you can stick to that; otherwise you can choose a different name.
5 – Market your business thoroughly
Once you are done with the initial planning and set-ups, consider marketing your business thoroughly. There are a number of strategies and techniques following which you can market your business to a great extent. Consider discussing with your team members and create an effective sales and marketing strategy to reach your target customers. Make sure you offer excellent customers' service as this will help in making a good reputation, which will, in turn help your business grow. Remember that entrepreneurship is full of challenges and excitement and therefore you need o be prepared for both, always.