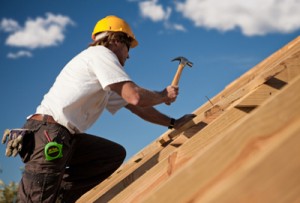 As winter subsides and the promise of spring is near, homeowners are starting to evaluate post-winter damage and plan for recovery. Though post-winter repairs are never fun, they are necessary to preserve the life and integrity of your home. When evaluating the need for post-winter repairs, make sure to cover the following areas.
1 – Roofing
After winter storms have passed, it's a good idea to get your roof inspected. Unless you have experience in the roofing industry, contacting a roofing specialist is the quickest and easiest way to identify risk factors and necessary repairs. Loose roof tiles or signs of leaks in the attic need to be addressed immediately to prevent further damage.
2 – Gutters & Spouts
While inspecting a roof's condition, it's important to evaluate the gutters and downspouts. Winter weather can damage your gutter system, leaving it incapable of properly draining heavy rains in the months ahead. If you notice pools of water around your home, this can be a sign that your gutter system isn't draining properly. If not promptly repaired, improper drainage can lead to problems with your home's foundation.
3 – Driveway
Many homeowners don't think about it, but the driveway is also susceptible to damage from winter weather. Existing cracks in pavement can worsen from exposure to winter weather as freezing water expands. If left untreated, these cracks can become more severe over time, resulting in the need to re-pave the driveway. Having your driveway re-sealed after winter weather subsides will help preserve the life of your driveway and prevent costly replacement expenses.
4 – Property
During winter weather, various locations in and around your property may become damaged. Conduct a thorough inspection of your basement, attic, and crawlspace to identify leaks and cracks, and to ensure hibernating animals have not gathered in your home. Common property structures that may need post-winter repair include fences and outdoor decks.
5 – Fix Leaks & Seal Cracks
After winter, it's an ideal time to fix leaks and seal cracks. Start by walking around the outside of your home, noting any cracks or leaks near doors or windows. If you notice multiple cracks, this may indicate a foundation problem. If you're unsure, contact a professional; otherwise, quickly caulking these cracks will help seal out moisture from rain and melting snow.
6 – Check Water
During the winter season, poorly operating sump pumps can lead to water backing up into your home. Water that accumulates over time can produce an increase of moisture in your basement, which can lead to the formation of mold and mildew. Additionally, water is not being used efficiently if your sump pump is broken. If you have a sump pump that needs repair, or if you need to have one installed, post-winter is the perfect time to get the job done.
7 – Hire a Professional
Often, embarking upon a post-winter repair adventure alone is not advisable. At the very least, it's helpful to get a professional opinion about possible repairs and money-saving upgrades. If your home is in need of post-winter repairs, contact a professional today to learn more about home restoration services. You can contact Fortified Roofing to help assess any of your roofing concerns.