When the weather forecast announces snow or heavy rain for the next coming days, get ready and protect your plants.
Here are 5 tips to protect your garden from any misadventure.
1- Settle a veil for wintering
The wintering veil allows you to protect your exotic plants against wind and frost.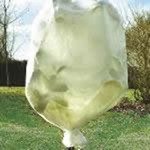 This supple veil made of propylene, is very light and transparent. It helps the plants breathe without damages.
It can also be used as an individual bell by wrapping the plant entirely (but don't tighten the knot).
Otherwise, the veil can be put on the plant using steel pickets to maintain it.
2- Set up plastic tunnels
You can find these tunnels in the garden centers.
They are used to over winter the vegetables, as well as the first seeds of the garden.
However, you should remove them in order to water the plants.
3- Mulch the fragile plants
Branches, dead leaves, and barks can be an excellent protection for the most fragile plant roots.
Take the mulch at the basis and don't forget to air them regularly after the rain so to avoid rot!
4- Take all potted plants inside
Your plants in pots are very sensitive to cold.
Once you feel the first freezing cold, take your plants inside a shelter with some light (inside your house next to the window).
For the plants that can't be moved, cover them with a thick veil or plastic sheeting.
5- Soil pots or plastic bottles to the rescue
For the small plants which lose their leaves in winter, the solution is simple: cover them with soil pot turned upside down, or plastic bottles.
The drain holes can be used to air the plants.
However, you need to take the pot off once the leaves start to appear.