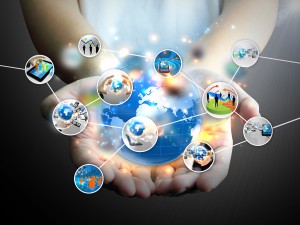 World-wide web, commonly known as the Internet, had become one of the most important things of the 21st century. From its humble beginnings, it had grown into unavoidable thing in everyday life. It has multiple types of usage, and I will just give you quick list on what occasion you could use it. Feel free to read on, and who knows, maybe you will come up with something new?
1. Media
Ranging from watching movies and favourite series online, to downloading music albums, multiple usages of the Internet are giving opportunities to relax and enjoy at the tips of your finger. There are some predictions that in near future the Internet will replace all other kinds of information bearers, and even today, there are numerous IPTV providers, which allow you to watch television, whereas fibre-optic cable is the conductor of the signal.
2. Communication
Many of us use Skype, Viber, TeamSpeak and other similar programs and services on a daily basis, and this trend will increase in the years to follow. Majority of these is completely free of charge, and that is why they are so popular. Talking with someone half a planet away won't cost you anything, and in addition, many of those support video calls, a feature which is quite significant for realistic feel of conversation.
3. Work
Doing a job which requires wide web of associates had never been easier. The biggest audience is there for you, browsing and clicking, and all you need to do is to go online. One of the biggest advantages is that you are no longer tied to a location, so you can hire creative agency from Sydney, to aid you in your campaign, and a web-designer from Peru, to make a web-site for the aid of your promotion.
4. Gaming
No matter if you are casual clicker, and you like relaxing games on Facebook, or a hard-core gamer that spends a lot of time in front of the monitor, you will notice how gaming industry had changed. Many companies are shifting to online options, with the possibility of earning quite nice amount of money, and in return are offering their services. From recognition as childish, these games are nowadays serious competitions, and can stand toe to toe with the Super bowl, when concerning attendance.
5. Shopping
Why do you need to even stand up from your chair to make a purchase? It is no longer needed, and good thing is that you may equally shop from your local store, or from Calcutta, purchased merchandise will arrive at your doorstep. Huge variety of products is at your disposal, all you need is to enter the number of your credit card. Be cautious though, for crime is also at the prowl on the web, and there are people who can steal your data, and abuse them.
With everything said in mind, it is quite clear that revolution is at our doorstep, and generations to come will only increase the usage of this medium, and I don't know about you, but I'm quite excited to see what else will it bring.
Author Bio
Dan Radak is a web hosting security professional with ten years of experience. He currently works with a number of companies in the field of online security, closely collaborating with a couple of e-commerce companies. He is also a coauthor on several technology websites.