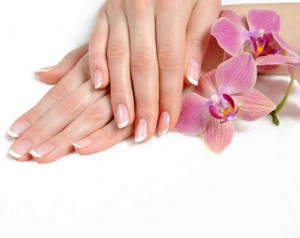 It is common that our hands suffer from our environment changes: cold, heat, humidity or simply daily aggressions like house cleaning and doing the dishes! All these elements make our hands look older and dry.
Here are 3 natural and easy recipes to take care of your hands.
A mask for smooth hands
Use Olive oil: thanks to its oleic acid, olive oil nourishes your hands. If you associate it to honey and lemon oil, this mask will give you miraculous anti-aging effect.
Recipe: crack an egg. Separate the yolk from the white. Use only the yolk. Mix it with one tea spoon of olive oil, one table spoon of honey and 2 drops on lemon essential oil.
Apply this oil once a month. Leave the mask on your hands for 20 minutes then wash it with warm water.
A brown spots care
It is known that frequent exposition to sun causes brown spots in your body and especially on your hands. However, thanks to celery essential oil and its anti-pigmentation properties, the brown spots will magically disappear (if you apply it when they first start to appear).
Recipe: put a drop of celery essential oil on your forefinger. Rub it delicately on every brown spot for one minute. For better results, repeat this action every evening. In fact, it is better to do it in the evening so you don't expose your hands to the sun.
Salt and lemon exfoliation
The hands, like the feet, face, and the rest of the body need exfoliation to eliminate the dead cells.  And here is how you can do it!
Recipe: in a bowl, mix 2 tablespoons of fine salt, one tablespoon of olive oil (you can also use almond oil or hazelnut oil), then add the juice half a lemon. Apply on your hands. Massage thoroughly. Then wash with warm water.