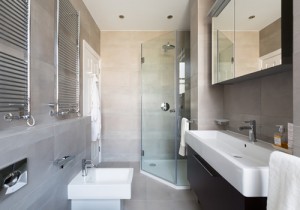 Bathrooms are more than just a facility room, it also reflects your overall home's design and unless some thought is put in, it will not be an effective bathroom. The purpose of a bathroom is to address all your needs, and it should also look enjoyable and very pleasing to the eye. The idea is to create a bathroom which will accommodate all your needs, so that when you walk in, you will not want to leave soon enough. However, be careful not to overdo it, or your bathroom will be avoided at all costs.
1. Choosing the Right Sink
Choosing an elegant yet stylistic sink is important as it will tell a lot about your bathroom and also about the homeowner. Going modern and choosing a sleeker sink design is also a good idea if you plan on having a more modern bathroom. However, make sure that you combine the right elements; otherwise you will create only chaos and a faux pas. It is important to choose functionality over design, but try to balance the two so that you have a functionally stylistic sink that will complement the overall design of the bathroom.
2. The Perfect Bathtub
Depending on the bathtub you would enjoy most and where you could relax for hours, it is important to choose the perfect one for your bathroom. There are many bathtub designs to choose from, and it is most advisable that you try to lie in one before buying it, so that you can check it out whether it will be good enough. However, you can always opt for a bathtub and shower combo which could also look nice in a bathroom, if installed properly. Moreover, if you have a small bathroom, you can also choose a small but deep bathtub which will still give you the option to design your dream bathroom.
3. The Right Tiles
Whether you will choose marble, ceramic or stone tiles, check out these bathroom design ideas for inspiration. Account for how much humidity and water splashing you will have in your bathroom so that you can choose the right durable tiles. If you want truly unique and stylish flooring in your bathroom, you can opt for hardwood, but be prepared that it will require some extra maintenance and good installation; but on the other hand, hardwood is great for offering natural warmth.
4. The Perfect Throne
One of the important centrepieces of the bathroom is undoubtedly the toilet. Unless you have a big budget to work with, it is not necessary to buy a very expensive toilet; however, you do not want to save too much either. Finding the perfect toilet is not easy as you have to take many aspects of your bathroom into account to find the one that will best suit your bathroom design.
5. Make Your Bathroom Well Lit
Installing the right lighting is not easy, and you have to make sure to make your mirrors without any dim spots so that you can see everything clearly and without squinting. By using the right lighting and dimmers, you can really influence the mood of bathroom; and if you want to take a nice long relaxing bath than you can set the just right mood for maximum enjoyment.
Author Bio
Lillian Connors is a blogger and home improvement enthusiast ever so keen on doing various DIY projects around her house and passionately writing about them. She is also an online marketing consultant, closely collaborating with a number of companies from all over the globe. You can check her out on G+, Facebook and Twitter.