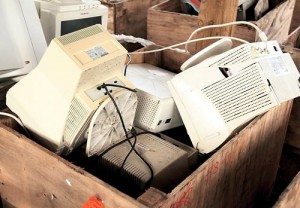 When the time comes to get a new computer, smartphone or tablet, you cannot just throw the old one in the trash. These devices contain heavy metals and other elements that could harm the environment, so they must be properly recycled instead of just trashed. Many municipalities have electronics recycling programs in place, and a number of companies specialize in taking unwanted computer equipment and making it usable again.
Sell
If your devices are still in working order, you may be able to sell or trade them in. Older computers, smartphones, tablets and other devices still have value in the marketplace, and the money you earn can offset the cost of the new computer you just bought.
Whether you sell your old device or give it away, you need to prepare it carefully and make sure that it no longer contains personal information. Simply deleting the files and emptying the recycle bin will not do; the deleted files still exist, and anyone with the right tools can easily recover them.
Later versions of Windows make it easy to destroy the data on your old devices and get them ready for their new owners. If you use Windows 8, you can simply move the cursor to the upper right hand corner of the screen, choose Settings and then select Change PC Settings. Choose the Update and Recovery option and then Recovery. Select the Remove Everything and Reinstall Windows option to erase all user data and get the device off to a clean start.
Recycle
If you are shipping the computer off to a recycling center, you can physically destroy the hard drive to render it unusable. It is a good idea to destroy the hard drive physically before sending the computer for recycling, since that is a sure way to make sure no one can steal the data it contains. You can use a hammer to crush the drive, or you can take it apart and destroy the pieces. The physical destruction method definitely has its advantages. You can vent your frustration with technology and protect your data at the same time.
Donate
If your electronics are still in working order, you can use them to improve someone else's life. Goodwill and the Salvation Army both accept donations of used but functional computers, tablets, televisions and other electronic devices, as do many smaller private charities.
Be sure to check with the charity you plan to donate to and make sure they can use what you have to offer. Also be sure to get a receipt if you plan to claim the donation on your tax return.
Selling your old electronics can give you more money to buy the latest new gadgets, like the recent launch of the Apple iPhone 6 or iPhone 6 Plus. Recycling the gear you no longer need keeps dangerous chemicals out of landfills and helps the environment. Donating your used electronics to a worthy cause gives the items a new lease on life. No matter which option you choose, you will feel good.
Author Bio
The publisher of this article, Craig, enjoys keeping up-to-date with the latest from the cell phone world. He is especially interested in reviewing phone apps from all different industries that can help people in their day-to-day life.