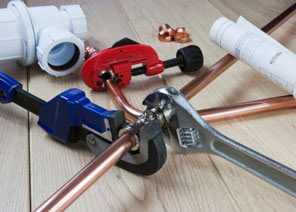 Plumbing problems seem to be an unfortunate part of life, no matter whether you rent or own your home. While some of these problems may require a professional plumber, you might be able to fix various simple issues on your own. However, before you can begin any DIY plumbing repairs, you will want to make sure that you have the following plumbing tools.
1 – Plunger
Perhaps the most important plumbing tool of all is a plunger. These are highly useful tools that you can find most anywhere for just a few bucks. Plungers are helpful in unclogging such things as toilets, sinks and tubs. The goal of using a plunger is to pull the clog out by creating a vacuum around the drain and pulling the debris upwards.
2 – Pliers
Next to a plunger, a good set of pliers is probably the second valuable tool you will need in your plumbing kit. Pliers are typically used to tighten or loosen fittings on pipes. An adjustable pair of pliers is the best choice as it will allow you to loosen or tighten several different sizes of fittings.
3 – Pipe Wrench
A pipe wrench is a large, adjustable wrench used to turn fittings and metallic pipes that have a round surface. These wrenches are often used to help break nuts or bolts free as well. You may need two pipe wrenches: one to grip a pipe and one to turn the fitting or pipe. Pipe wrenches vary in length from 10 to 40 inches long.
4 – Screwdrivers
Screwdrivers come in handy when you need to fix or replace such things as faucet handles, overflow plates and tub spouts. These tools are used to loosen and tighten screws on various fixtures. It is best to keep several different sizes and types of screwdrivers including both Phillips and straight heads.
5 – Electrical Tape
When tightening or loosening pipes or fittings, you will want to wrap a bit of electrical tape around your pliers or wrench so that you do not scratch or damage your pipes. If you do not have any electrical tape, you can also use a small piece of cloth. However, tape will stay in place much better.
6 – Basin Wrench
A basin wrench is a valuable tool that is essential for reaching behind sinks. These tools have a long shaft and a swiveling jaw, which are used to loosen and tighten nuts that hold sink faucets securely in place. Typically, you can find basin wrenches in most any department or home improvement store.
7 – Bucket
A sturdy bucket is always helpful, especially if you have a leaky pipe. Buckets are also quite handy if you need to disconnect pipes as they can catch any water that may be released during the process. Flooring can be easily damaged by water, and a good bucket can help avoid any unnecessary damage.
These are just a few of the plumbing tools you need to own. Other tools you may want to consider purchasing include a hacksaw, metal file, plumber's snake and tube cutter. However, it is essential to note that before you begin any DIY plumbing repairs, be sure to conduct a bit of research so that you can perform the job properly.
---
Pablo is a licensed plumber who fixes leaky pipes, broken water heaters, garbage disposals and more. He shares his extensive experience through blogging. Pablo also works for Texas Power Plumbing.