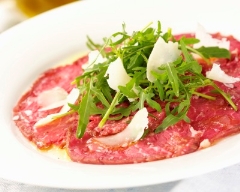 A quick, healthy and fresh recipe served in individual plates.
Ingredients
400 g of beef fillet (finely sliced ​​by the butcher)
4 tablespoons of olive oil
1 bunch of chives
1 lemon
30 g of grated Parmesan cheese
1 handful of red berries
1 handful of coriander seeds
1 spring onion
Recipe
Spread the beef slices on a dish (without overlapping).
Pour the lemon juice and olive oil over the meat.
Add pink peppercorns, coriander seeds and finely chopped onion.
Sprinkle with Parmesan.
Marinate at least 2 hours.
Just before serving the Beef Carpaccio, add the finely chopped chives.