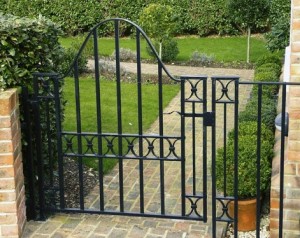 It is vitally important that your property and valuables are kept safe from the hands of criminals. By choosing to install metal gates and railings to the entrances and boundary of your property, you can reduce the chances of being targeted by a significant amount whilst adding a designer look to your home that can help increase its resale value should you ever wish to sell.
With this in mind, the following article will look at what options are available to choose from and what design implications this may have towards your homes overall appearance.
Available in many sizes, metal gates can be manufactured in a variety of sizes, so always pick one that is appropriate to the level of security you require. For help with the options available, we have detailed the most common options to choose from.
Common Gate Designs
Garden Gates – Normally around 3-4ft in height these designs are normally used at the front of the property or for restricting access to any area around the garden you want to restrict access to. Whilst they do not prevent people from climbing over them, they do create a well defined boundary to any environment whilst retaining a relatively affordable price.
Side Gates – Where a higher level of security is required, metal side gates are ideal. Manufactured from heavier duty steel components, they are generally around 6ft in height making them much harder to climb over.
Driveway Gates – As the largest access point onto your property, it is important that this entrance is well protected. So don't try to scrimp on cost for these gates as you may find they are flimsy and flexible if you don't invest enough money into them. This is especially important when you consider they are not only restricting access to your property but are also helping to secure the second largest asset you own (your car). In terms of height, most driveway gates are between 3-4ft in height; however this can vary depending on the height of the pillars supporting them.
Estate Gates – For optimum levels of security to the main entrance of your property, you should select to install high strength double estate gates. With most designs between 6-8ft, they are manufactured from heavy duty components meaning they are strong, rigid and prove an extremely effective barrier to all but the most determined of criminals.
A Note on Enhancing Security
To ensure any pathways, front entrances or rear access points to the home are well secured, you should always opt for a gate design that is either compatible with a padlock or better still has one built in as this is more convenient to the user for daily access.
Common Styles of Railing
Wall Mounted – As the name suggests, this style of railing is designed to be mounted on top of an existing wall as it will provide added height making it more difficult to climb over. Depending on homeowner requirements, these styles are manufactured in heights between 12" – 24".
Free Standing – Where no existing wall is present, then the use of free standing metal railings will create a well defined boundary to any outdoor space. Supported by metal posts set into the ground with concrete, it is possible to secure large spans for very little effort and ultimately achieve amazing results in terms of aesthetics and security without it breaking the bank in terms of the cost.
Now we have looked at the various designs available to choose from and the levels of security they will achieve, we can move onto the aesthetic implications of installing these items to your property.
Choosing the Design
The style of property you have will generally dictate the overall design you should choose. This is because you should be looking to create a harmonious overall appearance to the space rather than something that is not in keeping with the age or architectural design of the home.
Popular Styles
Ornate – These styles of gates and railings are particularly suited to period homes as the decorative features such as scrollwork will blend with the existing look of the building.
Ball Top – Where a simplistic appearance is required there are many gates to choose from that have simple ball top finials fitted to them. These are great for areas where people may trip and cause injury to themselves if they hit the gate or for homes with small children and pets.
Spear Top – To create an imposing appearance and high level of security a number of options are available that feature spear shaped finials fitted to the top of the gate. Whilst they provide improved aesthetics to the gate the main purpose is to deter people from climbing over them.
Hoop Top – Perfect for homes with small children and pets the hoop top design features no sharp edges or anything that could have a potential to cause injury. Whilst they are no particularly interesting to look at they do still provide an effective security deterrent.
To conclude, now we have talked about the various design, styles, and security options available you should be able to make a well informed decision as to what style of gates and railings will improve the security and aesthetics of your property.
Author Bio
This article has been contributed by Metal Gates Direct, the UK`s leading resource for all your gate and fence requirements.