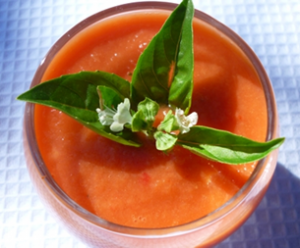 Gazpacho is a very freshening soup and ideal in summer for light and delicious supper! You get a meal full of vitamins and anti-oxidants that you can prepare in less than half an hour.
Ingredients :
5 big tomatoes
1 cucumber
1 red pepper
2 peeled garlic
3 table spoon of olive oil
Salt & pepper
Preparation :
Peel and core the tomatoes and cucumber
Dice the pepper
Mix all the vegetables in the blender.
Add the garlic, olive oil, salt and pepper. Mix again
Keep in the refrigerator for 4 hours.