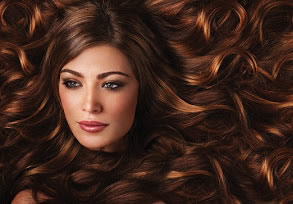 The way you style your hair is a reflection of which you are within and also your moods and personality. Your style is an extension of yourself. Whether you are blowing up your hair, sporting a pig tail, or pony tail, wrapping your hair in a chic bun, flowing curly tresses or color styling your hair like a glamazone, your hair styles do go a long way in helping you reflect a different aspect of yourself.  So wouldn't you want to know the secret of getting amazing hair styles by just following simple tips while getting any type of styling done? Here are some tips for hair styling which would give you that gorgeous look you desire!
1. Volumize with rollers
For a striking and attractive look for your hair, it would be cool if you sport a voluminous look, one which is suggestive of a lion's mane. It gives you an alluring and sultry look and to get that look yourself blow dry your hair until they are completely dry. Styling your hair by using rollers would instantly draw attention towards you in a crowd irrespective of the occasion you are at.
2. Run Your Hair Through Cold Water
For a super chic and sleek look for your hair, use cold water for the last rinse. We all agree that it feels like heaven to enjoy a hot shower on a freezing winter morning when a hot bath is your only motivation to enter the bathroom! However hot water opens up the pores of your hair scalp which makes the hair brittle and strips away moisture, resulting in hair breakage and messy styling. So be smart and simply run your washed hair through a shower of cold water for 5 seconds. Cold water acts as a natural seal for the hair cuticles.
3. Natural Drying Of Hair
Do you often feel dejected by the frizz in your hair which is often responsible for your bad hair days? Are you having a hard time to style your hair because they become unmanageable at all times? Well, this could be your main problem if you are accustomed of towel drying your hair especially by tying them for as long as 30 minutes in a towel and sometimes even more. Girls, it's disastrous for your hair! The habit of clamping your hair in a towel after a hair wash increases frizz and split ends in the hair which makes your hair look shabby and unimpressive even after styling.
4. Treat Your Hair Well In Time Before Styling
If your hair requires the application of various products for curling, straightening or controlling frizz or may be to give a wet look to your hair, always do it 20 minutes before you get down to styling. Let you hair absorb and blend well with the product and get adjusted to its effect. Styling your hair immediately after applying any kind of serum would nullify the effect and benefit of the product which you have used on your hair strands.
5. See If Your Shampoo Lathers Too Much
There is a way to find out whether the quality of your shampoo is good or not and if the shampoo is actually doing its job of cleaning your hair or just hiding out under the thick lather it creates. Remember sudsy does not always mean that your shampoo is an effective cleanser of your hair. Many a times, the shampoos which lather less are better and a lot healthier for your hair. The ones which lather too much are often loaded with moisturizing content which makes your hair vulnerable to oil dirt and other build-ups. Therefore, do not be illusioned by the thick lather shampoos form while rinsing.
6. Ironing Machine Tips
While straightening your hair you just have to simply press hair strands I between the rods and there is not much which is required to know except for the fact that your hair should be dry. However, when trying to get lose curls for your hair, do not clamp the hair strands on to the rods as this would damage the quality of your hair. Just wrap them gently and let the machine do its job.
---
Author Bio:
Jazzi George is a Team Member at Mole Removal – Natural Mole Removal. She loves to write about health problems, beauty tips, and various issues related to skin. You can follow her on Google+.