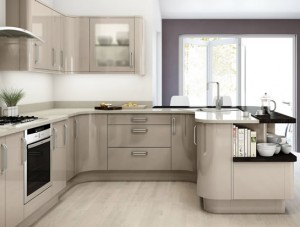 Do you want to give your kitchen a facelift, but find yourself constricted by your budget? While you may not be able to completely remodel your kitchen, there are plenty of cost-effective DIY projects you can take advantage of to give your kitchen a fun makeover. From painting countertops and appliances to changing your hardware and faucet, these DIY projects are simple and can be completed on almost any budget.
1 – Paint Kitchen Countertops
If you want a more high-end look for your kitchen countertops, you don't have to replace them. Instead, you can paint your kitchen countertops and give them an appearance similar to natural stone. There are many different types of kits available that can cover a range of countertop materials, including laminate, wood, ceramic tile, cultured-marble, and solid-surface.
2 – Switch Out Hardware
Replacing your kitchen cabinets can be a very costly job. However, if you simply replace the hardware on your cabinets, you can update their overall look for much less. By replacing your knobs and pulls with ones that are the same size, you can even save yourself the hassle of re-drilling the cabinets.
3 – Change the Faucet
Another simple upgrade that goes a long way, purchasing a new faucet for your sink can both improve functionality and give your kitchen a whole new look. This DIY project does involve some plumbing knowledge – be sure to follow the instructions provided and turn off the water valves before starting.
4 – Paint Appliances
Not only can you repaint your kitchen countertops, but you can also repaint your appliances to give them the high-end look of stainless steel. For best results, use a brush-on product rather than a spray-on one. Check to see if your appliances are metal or plastic before starting, as plastic panels may need to be primed first.
5 – Add Storage
Is your kitchen lacking in storage space? Rather than cramming pots and pans into your cabinets and drawers, make use of your walls and ceilings to add storage space. On the walls, you can install pre-made shelves as well as racks, rails, and hooks to store hung items. Suspend a rack from the ceiling to hang even more of your cookware and keep it out of the way.
6 – Get a Backsplash Kit
A DIY backsplash in your kitchen is simple with a peel-and-stick kit. You can find these kits in all types of patterns, and they come with the tools that you will need to get the job done. Kits with pre-mixed grout also save you time and prevent a mess in your kitchen.
7 – Paint the Cabinets
If simply updating the hardware won't do, you still don't have to replace your kitchen cabinets entirely. Painting your cabinets allows you to upgrade their look while still saving money. This DIY project will give your kitchen a completely new look and increase the value of your home.
Can't decide whether you should try a DIY project or remodel your kitchen entirely? Contact a remodeling company and ask for free consultation.