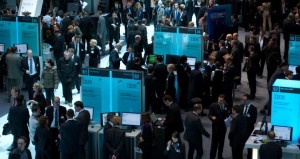 Visitors to a fair have never had a more difficult task than today. They face many challenges and considerations. Where to go first, which booths to visit, which brochures to take and which ones to bin. On the other side, booth staff have a complex task of attracting prospective customers. How to sell a company on trade fairs is a combination of skillful sales techniques and a welcoming, animated booth.
1. Choose and educate the booth staff
Visitors are usually turned off by bored or disinterested people staffing the booth. It is of paramount importance that all representatives at the booth look friendly and engaged, interact with courtesy. One of the good tactics is that one friendly and communicative person stands on the floor outside the booth and directs the interested visitors into the booth, while the other representatives engage with the visitors, giving them valuable information and promoting the new products or services.
A hearty smile and inviting environment my do wonders for the company's rating among the visitors. Habits that are definitely not helping include eating, chit chatting, laughing loudly or using wireless devices at the booth. Such behavior sends a completely opposite message – we're doing serious business here and you as a visitor are not important.
2. A booth is a living thing
The booth area should be festooned with charts, graphs, games and other vivid items of interest in the best hope of attracting attention to the booth. A well-chosen lightning option may add to the warmth of the atmosphere, instilling comfort and highlighting products on display. In the same way, moving images like TV screens or smartly designed exhibition displays create interest, as do the colorful and non-aggressive brochures set in an organized array.
3. Don't underrate colors
You definitely want to make an impression of a visually stimulating booth that also looks professional and businesslike. Colors are a great medium to transcend the goal of your company and its values. It is discovered that subtle colors such as dark blue, green, some hues of brown and earth tones create a more professional atmosphere, while red, orange and black instigate excitement. However, going too far in one direction is never too good. No male visitor will stop or even slow down by the booth wrapped in pink and flowers.
4. Organize giveaways
Giving away a small token to every visitor is a professional way to thank them for taking interest and placing a cookie in their mental software for the future. People like items like pens, lighters, stress balls, clamps and other swag that they will use on and on. Simultaneously, you'll turn the visitors into your mobile marketing channels.
Finally, it's important to keep the steady flow of visitors through your booth by keeping conversations brief but informative. People don't like the feel of being trapped at a both, and in the same way it is not in your interest to entertain the same group of visitors while the others pass by. The key is to find a perfect balance between being helpful and outgoing and selling the company beyond what is comfortable.
Author Bio
Dan Radak is a web hosting security professional with ten years of experience. He currently works with a number of companies in the field of online security, closely collaborating with a couple of e-commerce companies. He is also a coauthor on several technology websites.