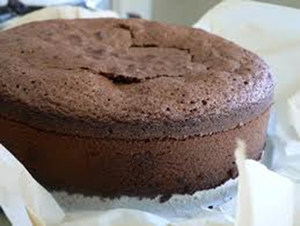 Ingredients:
– 150 g butter
– 200 g chocolate
– 120 g sugar
– 3 eggs
– 130 g flour
– 1 sachet of yeast
– 4 pears in syrup
Preparation:
Preheat the oven at 180° C
Melt butter and chocolate in the micro wave for 2 minutes
Add sugar and mix
Separate egg whites from yolks and add the yolks to the mixed preparation then add flour and yeast
Beat the egg whites until firm with a pinch of salt and fold in the preparation.
Finally, drain the pears from syrup and dice them; then add the dices to the preparation.
Bake in the oven at 180°C for approx. 40 minutes.