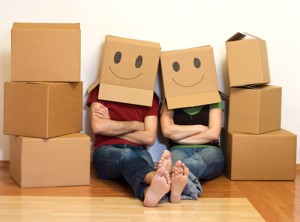 Oh, the challenge of just packing all your things and arranging them again! Not to mention, you might have to deal with new electricity, water, and gas companies and also redirecting all your bills and other expected mails. Yes, moving seems to be dreaded by everyone.
But it can be much less painful and, perhaps, even enjoyable if you make a schedule of everything you need to do to make that big move. To help you start, here is a guide so you can plan your tasks one month before you transfer.
Four Weeks Before the Move
Get quotes and get ready with the budget. Search for services and other companies that you need to vacate your current home and to transfer and organize all your belongings to your new location. Often, you'd have to seek the help of professional movers and cleaners for this. Choose the company that will best serve you – the quantity of things you'll move, travel distance, and the cost, among others. Prepare the budget you need for everything.
Check the utilities in your new home. Make sure that everything's already connected or will be before you move in. If not, you can search for electricity, water, and gas companies on the web individually. Or you can look atproviders who can give all of them to you in one package.
Be acquainted the best local assistance you'll need. Check out the school, family doctor, vet, convenience store and other establishments and services that you think you'll need once you've settled. Register for the school, gym, local club, and wherever you need or want to join.
Sort, sell, and store. Separate the items you'll keep and those you won't. Have a garage sale for those that you want to sell and don't forget to give away some to charity. Then you'll be ready to pack the ones that will go with you to your new home.
Three Weeks to Go
Finalize important documents. Process all the remaining requirements for your children's (or your) school and, if applicable, your work. Arrange for your home insurance and other security-related documents.
Start packing (if you haven't yet). Ask for boxes from your neighbors or that store around the corner so you can save on packing costs. Otherwise, you can ask your movers to include them in their service.
Down to Two Weeks
Clean the Vacated Areas. By now, you'd probably have cleared certain areas of your house. Start tidying up. This is also a good way to see if you're forgetting to pack, donate, or sell something.
Request Mail Redirection. Call or send email to your credit card company, the clubs you're affiliated with, and other such organizations to request that all bills and mails be sent to your new mailing address. Make sure that they acknowledge receipt of your request.
One Week to One Day Before
Disconnect and connect. Confirm the disconnection of services you're using in the house that you're leaving – electricity, gas, water, phone, Internet, cable TV, etc. Of course, you should also confirm the connection or installation of all the services you need in your new place.
Clean up – but "not totally." Check all cabinets and drawers to make sure you're bringing everything with you. But keep accessible all those that you still need until after the last hour of moving.
Lastly, be gracious and keep in touch. Say goodbye to and thank your neighbors, especially those who've made life happier all that time you've stayed in the area. Let your family and friends know, too, about your new location.
Author Bio
Allan Smith is a father of 2 and a passionate blogger to boot. He writes mostly anything about the home and does consulting for connectnow.com.au.