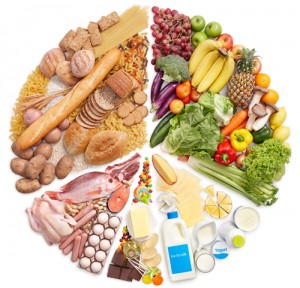 If maintaining a healthier lifestyle was one of your goals for the New Year, consider implementing some of these tips to help maintain a nutritious and well-rounded diet.
1 – Eat a healthy breakfast
Although health experts say it's vital to eat a nutritious breakfast every morning, most people skip breakfast or think that a venti Starbucks counts as a healthy start to the day. It can be tempting to skip breakfast or stop by a food chain, especially if you're a night owl who prefers a few extra minutes of sleep to a home-cooked meal. However, eating breakfast has been linked to weight control and improved performance. So instead of skipping breakfast, opt to make simple and quick ones instead. If you have a blender, you can whip up fruit smoothies in a matter of minutes. Greek yogurt alongside granola and fresh berries makes another tasty breakfast ready in less than five minutes. Whole-grain cereals or oatmeal is also great option, as are eggs and whole-wheat toast. If you running a bit late, simply grab a piece of fruit. Eating a healthy breakfast not only helps you feel better, but also inspires you to maintain a healthier diet for the rest of the day.
2 – Bring Lunches to Work
Bringing your own lunch not only enables you to eat a healthy meal, but also saves you big bucks on dining out daily. Thankfully, lunches don't need to be limited to sandwiches. Make a delicious and simple meal the night before, such as homemade chili or broccoli cheddar soup, pasta and alfredo sauce, stir-fry, or pizza, and take the leftovers with you to work. Or spend a few minutes in the morning making a quick lunch, such as a wrap or salad. Bring healthy lunches to work all week long to boost your performance and energy. Consider subscribing to a magazine such as Real Simple so that you don't run out of simple and yummy recipes.
3 – Avoid Fast Food Restaurants if Possible
While McDonald's and Taco Bell may have some tasty items on their menus, they aren't a good choice for health-conscious individuals. Not only are most fast-food meals deep-fat fried, but they also contain unhealthy amounts of fat, sugar, and sodium. If you're traveling, try to pick a healthier option such as Chipotle or Panera. Also, check out the menus at restaurants and eateries nearby your workplace. That way, if you forget your lunch one day or simply don't have time to pack anything, you can go to a place that offers the healthiest options.
4 – Don't Try to Go Cold Turkey
Remember that maintaining a healthier diet and lifestyle is not an overnight process. It takes time, effort, and dedication to build a consistently nutritious and healthy diet. It may be tempting to make a grand, sweeping statement that you will NEVER again eat junk food or fast food, but that's a rather lofty goal. So rather than trying to change everything overnight, take consistent steps to implement healthier lifestyle choices little by little, until they become a more natural part of your routine. If you are craving ice cream or soda, don't be afraid to have a small portion. Eating small amounts of your favorite foods in moderation is better than binging later.
---
Kendra Smith is a food blogger who loves trying and creating new recipes.