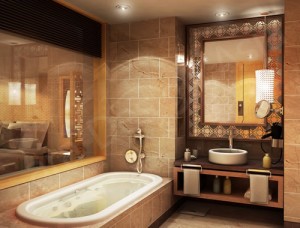 For an instant lift to any home, start with remodeling the bathrooms. Deciding to redesign your bathroom may seem like a large financial commitment but it does not have to cost you much at all. You can always decide to start your own DIY project, or consult with several professional remodeling companies before moving forward. We have compiled a list of budget friendly ways to tackle your bathroom remodeling needs.
1 – Start from the bottom
The flooring that is currently in your bathroom will decide the overall feel of the room. Flooring is also one of the more expensive aspects of remodeling. If you already have tile installed, simply learning how to fix cracks in your grout can dramatically improve the overall look.  Tile is a relatively cheap flooring option and you can install it yourself and avoid installation fees. If you currently have carpet in your bathroom, you may want to be aware that carpet has been proven to harbor mold and trap unwanted bacteria in bathrooms. Perhaps consider removing it and replacing it with vinyl, hardwood or tile.
2 – Paint the walls
If your bathroom currently has wallpaper, remove it and cover the walls with a fresh coat of paint. Applying a fresh color to your bathroom walls will transform the look without depleting your wallet. Prepare a budget that will allow you to purchase high quality paint and use at least one coat of primer. Buying a higher quality of paint is slightly more expensive but it will last longer than its less expensive counterparts.
3 – Replace Hardware Fixtures
A simple way to remodel your bathroom on a budget is to replace hardware fixtures. Instead of installing new cabinets or drawers, buy new handles and knobs to replace the old ones. Replace the current mirror with a more modern one for a whole new look. To find fixtures on a budget, check your local flea markets or thrift stores for discounted options. If you find a style you like but it isn't the exact color you were looking for, you can paint it and turn it into the perfect piece.
4 – Accessorize
Choosing the right accessories can completely change the design of your bathroom. Add color to the space by incorporating a new rug or shower curtain. Try to avoid having too many items that only serve as decoration pieces since this will make the space seem smaller and more crowded. If your budget is really small but you want to renovate your bathroom, accessorizing is the way to go. Even if you do not undergo any major bathroom change, such as walls or flooring, changing the accessories will add new life to the room. By changing the clothes hampers, wall art and trash cans, you can make the area feel like new.