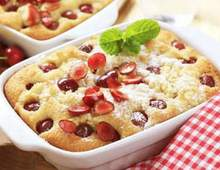 This desert is easy to prepare and will marvel your family! it won't take long to prepare: only 15 min and desert is ready!
Ingredients
600g of cherry
3 eggs
120 of caster sugar
120g of flour
30cl of milk
Salt
Recipe
Wash the cherry with cold water. Take off the stripes and the pits. Sprinkle with 60g of sugar. Spread the fruits on buttered plate.
Prepare the paste by mixing the flour, the remaining sugar, and then add a pinch of salt. Add the eggs and mix all the ingredients. Add slowly the milk to obtain a fluid paste.
Pour this paste on the cherry. Put in the oven for 35 minutes at 200°C (ther.6-7).
Bon appétit!