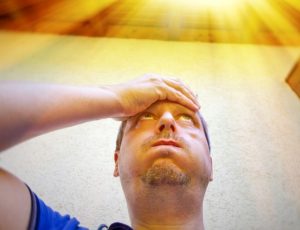 Blizzard and snowstorms in the eastern part United States make the headlines, with people in these areas sporting their snow boots and winter coats for days. The west, meanwhile, grapples with the main marks of a terrible summer season: heat wave, drought and the scorching rays of the sun on an otherwise regular day.
The warm weather usually brings to mind the finest beaches, endless fun under the sun, or a repeat of the last year's exhilarating road trip. Bad news is, global warming continues to heat up the Earth at record high, and there's no escaping the repercussions of a season – and an era – that validates the effects of climate change.
The State of Colorado, for one, nearly broke its century-old high temperature record as Denver hit 81 degrees in March last year. A hundred and forty-three years ago in 1907, the Centennial State endured an 82-degree heat.
Hot weather is often synonymous with discomfort even at home. But there is also a growing concern about how too much heat results in uncontrolled body temperature which, in turn, aggravates health problems such as diabetes, heart problems and lung diseases.
So yes, it might become a little too hot to tick these to-dos off your exciting summer list.
Hotter Than Ever: Costlier Than Ever?
As mercury rises and leaves cities gasping for cool air, utility bills also escalate. It's almost odd to expect otherwise, as your home cooling systems and appliances run non-stop during this time – and understandably so. You want comfort in your home so you try to beat the heat as much as you possibly can, consequently sending your electric bills through the roof.
So, how do you get rid of exorbitant utility fees while keeping your home or office cool the way you want it with an air conditioner? Check out these simple tips that work every time.
1 – Put those A/C "Energy Saver" controls to use
You might think setting your AC units to a lower temperature level helps cool a hot room faster, if not instantly. Ready for the truth? It does not. It only results in usage increase – and ultimately reflects on your electric bill. And while you are probably used to turning your air conditioner off when you leave home, experts say it is best to use the energy saver option instead. Doing this keeps your home temperature cool until you're back. Turning the AC off and back on again will only make it work harder and consume more energy.
2 – Get a brand new A/C
Don't fall for the common (but oh-so-wrong) idea that replacing your age-old air conditioning system will hurt your budget. Truth is, what you get is the exact opposite. Upgrading to a brand new A/C that runs on modern technology is your gateway to enjoying an energy efficient unit during the scorching summer season. Did you also know that installing a programmable thermostat for your new AC can take as much as 18% off your bill?
3 – Maintenance matters
Caring for your cooling system at home your surest way to reducing this summer expense. In fact, proper AC maintenance drops energy consumption by roughly 15%. Dirty filters, as well as dusty evaporators and condenser coins hinder optimal AC performance so keep these completely well maintained. To be sure, trust a reputable team of cooling professionals who can do A/C installation, repair and maintenance for you. While this requires you to spend (yet again), it is actually a highly effective way to save money in the long run. Remember that rust, accumulated dust and other elements can result in leak or damage that may have irreversible effects on your air conditioner.
Don't get the shock of your life with ridiculously high electric bills this summer. Master the tricks that will make your air conditioning unit work for you.