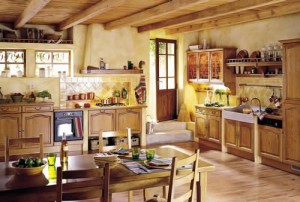 There's something timeless about vintage kitchens, from the walls to the flooring and everything in between. Vintage-style kitchens are becoming increasingly in vogue, but how do you maintain them? Achieving a vintage-style look generally requires ongoing care and maintenance of the kitchen's floor, surfaces, and appliances.
1 – Appliances
Creating a vintage-style kitchen usually requires at least a few vintage appliances. When cleaning and maintaining vintage appliances, there are a few important steps you need to take:
Take it apart. Cleaning a vintage appliance is easier when you're able to take it apart. Whether you're working with a small or large appliance, removing the components that were meant to be removed makes cleaning much easier.
Use the right cleaner. When cleaning vintage kitchen appliances, a solution of grease-reducing soap and water is generally the least abrasive option. Gently apply this solution with a scrub brush to heavily soiled areas. When cleaning the inside of an oven, oven cleaner may need time to soak into debris before removal is attempted.
Have patience. Removable parts that do not connect to a power source, like knobs and handles, may need to soak in a gentle cleaning solution before being re-attached.
2 – Surfaces
The surfaces in a vintage-style kitchen are often the essence of the space's ambiance. Vintage kitchens may contain brightly-colored countertops, aged cabinets, or patterned backsplashes. To properly care for a kitchen's surfaces, it's important to take into consideration the type of material used.
Stainless steel. Caring for stainless steel surfaces is relatively simple, as this material is highly durable and resistant to damage. To keep surfaces intact, use a mild abrasive to clean surfaces, and wipe clean immediately.
Linoleum. Compared to other common kitchen surface materials, linoleum is susceptible to water damage. To keep linoleum healthy, it's important to keep it waxed and prevent water from pooling on the surface.
Wood. If your vintage kitchen has wooden cabinets or shelves, make sure to dust frequently. Regularly polishing and buffing wood surfaces will help maintain the look of your vintage-style kitchen.
3 – Floors
The type of flooring in your kitchen will help set off a vintage-inspired look. Often, vintage-style kitchens include tile or linoleum flooring. With regular care, these flooring types will last for years to come.
Tile. To keep your vintage-inspired tile intact, seal the tile and grout. Doing so prevents staining and potential water damage.
Linoleum. Regularly polishing linoleum floors can help preserve its initial shine and luster.
Eliminate spills. With any type of flooring, immediately cleaning spills will prevent long-lasting damage.
Use welcome mats. To reduce scuffing and scratching, use welcome mats at entryways. This allows visitors to remove excess dirt from their shoes.
Maintaining a vintage-style kitchen takes a bit of work and planning, but gathering with loved ones in a cozy and comfortable kitchen is sure to make up for the trouble.
If you're considering a kitchen renovation or have questions about vintage-inspired styles, contact RH Homes today to learn more about our services.