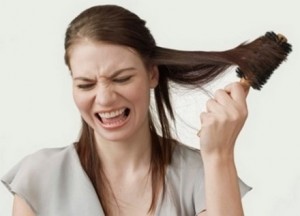 As women, we put our hair through a lot. From hair dye to straightening, sunbathing to those tight, scruffy get-out-of-my-face buns, it's no wonder that every now and again our locks send out a cry for help. When your hair is looking a bit worse for wear, take the time to give it a little TLC and you'll be amazed at how quickly you can have it looking glossy and healthy once again. To put you on the path to recovery, here are a few tips on how to repair damaged hair.
1. Get A Haircut
It might sound obvious, but you'd be amazed at how many people attempt in vain to repair dead hair and split ends without even thinking to visit the salon. The best way to improve the health of your hair is to get it cut regularly, to trim off those scruffy ends and allow your hair to grow back stronger.
For those of you who are desperate to grow your hair long, take the hairdresser's advice and allow them to take off that extra half an inch, for short term loss but long term growth!
2. Treatment at the Salon
Whilst you're at the salon, it's always a good idea to get a treatment that will restore your hair with quality products that you won't find on the shelves. Treatments such as Kerastase Fusion Dose and FIBERCEUTIC have active ingredients that will enrich and protect your hair, to give you a head start in looking after your locks between cuts.
3. Give Your Hair a Break
For seriously damaged hair, it might be time to think about changing your styling routine. Of course, it would be unthinkable for most women to stop drying, straightening and dying their hair altogether, but if you can at least reduce the bombardment of heat and chemicals, you'll notice the difference. For a simple way to make a change, try washing your hair on a night and letting it dry naturally rather than having to dry in a rush every morning.
4. Quality Hair Products
Many supermarket shampoos and conditioners are made of poor quality ingredients that strip your hair of its natural oils and replace them with deposits, which will make your locks lose their shine. So the next time you go shopping, upgrade to quality hair products that will reinforce the efforts of your hairdresser. Whilst you're at it, invest in some styling products such as heat protection spray, to minimise the impact of your daily routine on your locks.
You've only got one head of hair, and whilst it does grow back it's important to look after your hair to ensure its long-term health. After all, you might really suit red dye or salon-straight styles, but your locks looks dull, damaged and lifeless then there's really no point in making an effort in the first place! Protect your hair and get regular cuts and salon treatments, to maintain the glossy shine that turns head whatever your style.
Author Bio
Kelly Gilmour-Grassam, freelance copywriter, follow her at @KellyGGrassam. Kelly loves interesting places and delicious food. Article written with helpful information from RM-UK.