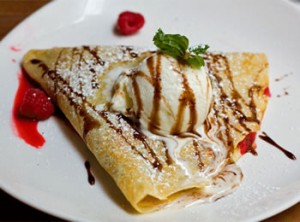 From the French cuisine, here's a simple crepe recipe you can fill with whatever you want: chocolate, jam, fruit, powdered sugar…
Ingredients
1 1/2 cups all-purpose flour
2 cups milk
2 eggs
1 tablespoon white sugar
1/2 teaspoon baking powder
1/2 teaspoon salt
2 tablespoons butter, melted
1/2 teaspoon vanilla extract
Recipe
Sift together sugar, baking powder, flour and salt in a large bowl.
Add the remaining ingredients, then mix until smooth.
Heat a griddle or a frying pan, lightly oiled, over medium high heat.
Using 1/4 cup for each crepe, scoop the batter onto the griddle with a circular motion so that the batter coats evenly the surface.
For about 2 minutes, cook the crepe until the bottom is light brown. Turn with a spatula and cook the other side.
Stack the finished crepes by putting wax paper between each one.
Cover the crepes with a dry cloth until you want to serve them.