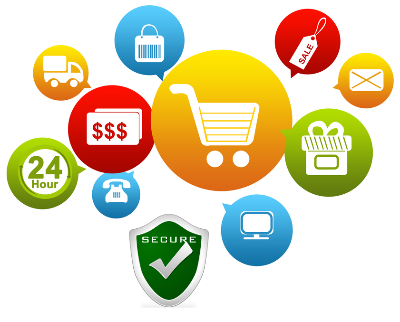 Buying online is definitely convenient, but it pays to follow tips for safe internet shopping. There are a lot of scams that you have to watch out for, and a lot of people out to steal your cash. So, as a consumer, you have to do everything you can to protect yourself. Here are some important tips for safe internet shopping, so that you can buy with more confidence …
1. Secure site
One of the top tips for safe internet shopping is to check that you are shopping on a secure site. Never insert your payment details without confirming that the page is secure, and that your details will be encrypted. Look for a padlock symbol in the browser frame. The address of the payment page should begin https:// – that's is crucial.
2. Payment method
When shopping online, a prepaid card can be useful. If the card details are intercepted, then the amount that can be stolen is limited. But also remember that paying by credit card offers greater protection than paying by debit card; for example, you can put in a claim to have your money returned if there is a problem with the item and the retailer does not help.
3. Reliable sites
There are lots of fake websites, so make sure that the site you are on is not masquerading as a famous name. Any site that only gives an email address as contact details is not to be trusted. Look for a site that provides a proper address (not a PO box) and telephone number.
4. Don't Tell All
No online shopping store needs your social security number or your birthday to do business. However, if crooks get them, combined with your credit card number for purchases, they can do a lot of damage. The more they know, the easier it is to steal your identity. When possible, default to giving up the least amount of information.
5. Check Statements
Don't wait for your bill to come at the end of the month. Go online regularly during the holiday season and look at electronic statements for your credit card, debit card, and checking accounts. Make sure you don't see any fraudulent charges, even originating from sites like PayPal. (After all, there's more than one way to get to your money.)
If you do see something wrong, pick up the phone to address the matter quickly. In the case of credit cards, pay the bill only once you know all your charges are accurate. You have 30 days to notify the bank or card issuer of problems, however; after that, you might be liable for the charges anyway.
6. Protect your computer
If you do any kind of financial transaction on your computer, you absolutely need to have a good antivirus program installed. Also make sure that it is set up to automatically install updates. In addition, you should also have a firewall activated, and ensure that your wireless network is secure from outside access.
Avoid shopping or paying for anything on a public network. Since these are obviously open to anyone, there is a risk that your details could be accessed. Also someone could be looking over your shoulder. So only shop in the security of your own home, and make sure your own wireless network is protected.
If you do decide to go out with the laptop to shop, you'll need a Wi-Fi connection. Only use the wireless if you access the Web over a virtual private network (VPN) connection.
7. Strong passwords
Yes, it's a PITA thinking up (and remembering) a new password for every online shop, PayPal account etc. But always use a different password; repeating them makes it easier for anyone who manages to get hold of one of your passwords. Also choose a password that is difficult to guess. Use a mixture of upper and lower case letters, and numbers. Don't pick something obvious like a date of birth or name.
8. Payment portal
Use a safe payment portal such as PayPal. These sites offer protection to the buyers; should your item fail to arrive, you can put in a claim to have your money refunded. It's also worth mentioning here that if you are shopping on eBay, don't agree to pay outside the site in order to save fees. By doing so, you'll forfeit the protection that the site offers, and have no recourse if the seller fails to deliver.
9. Know What's Too Good to Be True
The "coupon scam" offers of a free product with purchase, in particular an iPad (a very coveted gadget) or even holiday job offers. Many of these "offers" will come in via social media. Beware even of your friends, who might innocently forward such a thing. Be very wary even if you get a message from friend claiming he or she has been robbed, especially a friend overseas looking for money to be wire transferred, unless you absolutely can confirm it by talking to him or her personally. Skepticism in most cases can go a long way toward saving you from a stolen card number.
10. Think Mobile
There's no real need to be any more nervous about shopping on a mobile device than online. The trick is to use apps provided directly by the retailers. Use the apps to find what you want and then make the purchase directly, without going to the store or the website.